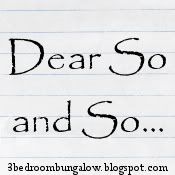 Dear So an So handbag designer,
how is it that you have not yet figured out that making the inside of handbags black, dark grey or brown makes it IMPOSSIBLE to find anything! Please consider using bright pink, yellow, orange, green, silver or tobacco colored lining and do your clients a favor.
Thank-you,
me
Dear So and So packaging designer,
how about making it
clearly visible
on your packaging when the lotion is a body lotion and NOT a baby bath gel. Or when your
butterkeks
are "diät" instead of regular. Distinguishable packaging will not dilute your brand equity or image, only make your buyers and users happier instead of frustrated. Plus you might have an accurate idea of what product is actually being bought because we like it and not by accident.
Yours, with gratitude,
me.
Dear So and So (you probably won't recognize yourself),
When I say "no" or "not now" -although the reason might not be obvious to you, please respect my answer. You do
not
know it
all
. I am anything but unhelpful but I am not at your service either and I
do
have a life. Not being heard and respected is what makes helpful people become unhelpful.
Truly,
me
Dear Emma-sweetie,
When I insist you wear socks and long-sleeves in the morning it's because it's now 12° outside and your nose is sniffy. I know you like your summer dresses but
it's no longer summer
and it's too cold. Please understand I do not want to torture your arms and feet only keep you warm and healthy.
Love,
Mom
Dear Emma-chérie,
Could you please make an effort to dress in less than 45 minutes in the morning? We would then have more time to have breakfast
together
instead of me sitting through breakfast with Will and then rushing it with you (while trying to stop Will from climbing through windows/into the dryer/ dismantling furniture or emptying the bookshelf).
I hope you nevertheless have a happy day at school.
Love,
Mom